6 Top Options for a Meat Market POS System (Features + Pricing)
May 30, 2023
•
6 min read
Like every Boy Scout is ecstatic about a Swiss Army knife, every meat market owner or manager loves a good all-in-one point of sale (POS) system.
Meat markets require specialized features such as scale integration, product labeling, and inventory tracking. But more importantly, they need to work together to maximize efficiency. In fact, with every disconnected tool or feature, you're losing substantial time and money.
A printer and calculator may get the job done, but it's not doing anyone any favors. And while you're probably using technology that's more advanced than that, it can still be daunting to select a point of sale system that does everything you need at the right price.
In this article, we'll introduce you to six top options for a meat market POS system, complete with their features and pricing information.
The 6 Best POS Systems with Advanced Features and Competitive Pricing
Meat markets need integrations and compatibility in their POS systems to streamline operations and improve efficiency. These requirements include:
Accurate Inventory Management
Compliance
Customization
Speed and Efficiency
Integration with Accounting and Other Business Tools
We selected the POS providers on this list because of how well they deliver on these requirements.
As you review, consider the price and features and who they're the best fit for. We're sure you'll find a great POS to explore further.
1. POS Nation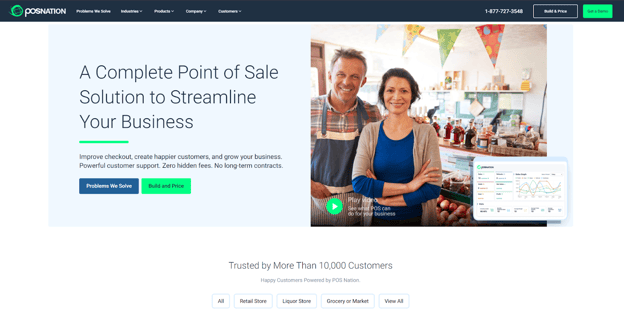 POS Nation is the go-to solution for retail shops seeking to leave outdated systems behind and confidently step into the modern market. This advanced point of sale platform offers robust features, seamless integration, and a competitive pricing plan that caters to a wide range of businesses.
POS Nation's top features include a wide range of reports to assist in making data-driven decisions. Inventory and employee management tools also make this POS provider extremely valuable for retail store owners.
Experience the benefits of a modern point of sale system for just $149/month, making POS Nation an affordable and high-value choice for businesses looking to optimize their operations.
"Before POS Nation, we were using an old analog cash register that only had new items and used items as categories (the only new items we carry are mattresses), leaving no information as to what we sell in what quantities or values. Now, we can see how many of what we sell and when. This is very important to us and will be a very good aid for as to what donations we will be seeking more or less of." - POSN User via Capterra


2. IT Retail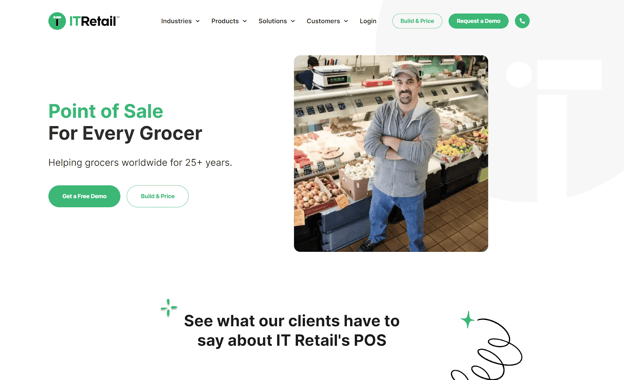 IT Retail is a top choice for markets seeking speed and convenience in their point of sale system. Designed with the needs of fast-paced retail environments in mind, IT Retail offers powerful features, easy customization, and multi-device accessibility at a competitive price point.
One of IT Retail's top features is its scale compatibility. Customers can seamlessly integrate various scales for accurate and efficient weighing of products, ensuring a smooth checkout experience.
Other features include customizable reporting and multi-device accessibility to track your numbers on the go.
Upgrade your market's point of sale experience for just $79/month with IT Retail. This affordable solution combines high-performance features and ease of use, making it a strong choice for markets focused on delivering a fast and convenient shopping experience for their customers.
"IT Retail POS accompanies a smooth, natural interface that makes it simple to set up and learn. The POS programming has a few inherent applications that are explicit for taking care of specific requirements. These applications separate IT Retail's various capacities, so you can discover the things you need rapidly, keeping everything straightforward. What's more, Works Even When Your Store is Offline." - IT Retail User via Capterra


3. Lightspeed POS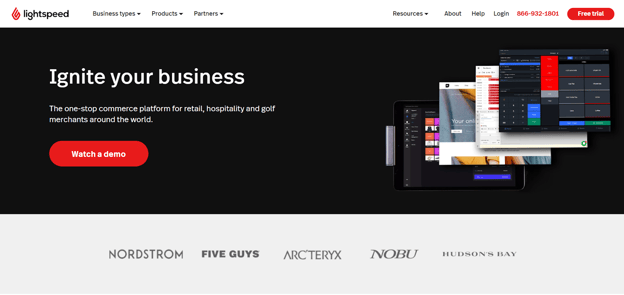 Lightspeed POS is ideal for meat market stores looking to expand their reach through e-commerce. This all-in-one solution provides powerful tools and seamless integration, allowing businesses to efficiently manage their online and brick-and-mortar operations from one central platform.
Because of its powerful features around e-commerce, Lightspeed dedicated attention to integrated inventory management. With their POS, you can track your inventory across products in realtime, both in-store and online.
For just $99/month, Lightspeed POS offers a fitting solution for meat market stores looking to enter the world of e-commerce. This robust platform enhances your store's digital presence and streamlines your overall operations, helping you grow your business and maximize profits.
"The Lightspeed Retail system is a comprehensive management solution for retailers, offering a variety of tools to manage inventory, process payments, handle orders, and facilitate e-commerce." - Lightspeed User via Capterra


4. NRS POS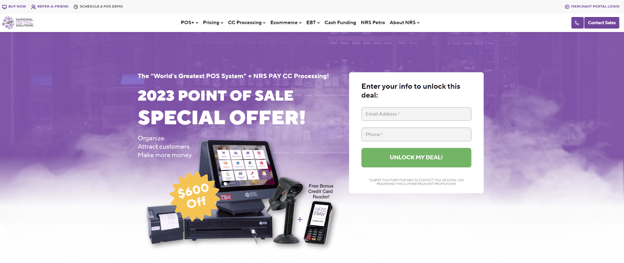 NRS POS is an excellent choice for businesses prioritizing vendor management and selling freshness. This innovative point of sale system helps companies with slower sales cycles, such as those dealing with perishable goods, maintain optimal inventory levels and drive customer loyalty.
NRS's top features include its loyalty program tools, as well as its inventory management to help you sell meat when it's fresh.
With a one-time investment of $1,299.00 and a monthly fee of $19.95 for support and service, NRS POS provides a comprehensive solution for meat markets. Equip your company with the tools to drive efficiency, optimize inventory, and build a loyal customer base.
"I purchased two NRS machines for two of my stores about six months ago. The gentleman I dealt with at NRS really took pride in helping me to understand all the benefits of this machine. I didn't realize how much more I could do, and it's made my life so much easier. It has streamlined my inventory process, and the user-friendly terminal did not take long for my staff to learn." - NRS User via Trustpilot


5. Markt POS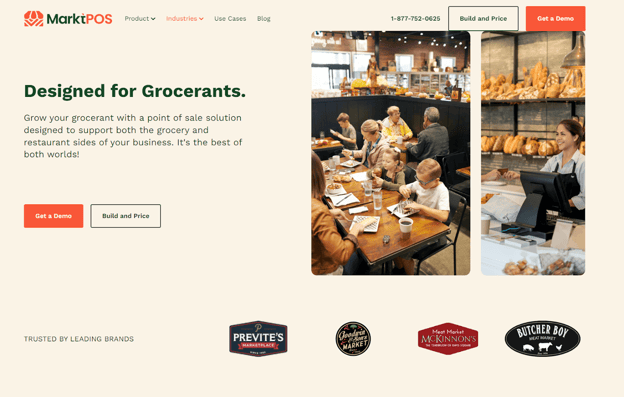 Markt POS lets businesses prioritize speed and reliability in their point of sale systems. With cutting-edge features and powerful cloud-powered infrastructure, Markt POS offers an all-in-one store operating system that helps companies to excel in the fast-paced retail landscape.
While we're biased about our features, the Markt POS state-of-the-art inventory management and all-in-one store operation system are worth a look. With Markt POS, you can run your entire business from a single pane of glass.
For just $149/month, Markt POS provides a comprehensive and cost-effective solution for businesses seeking speed, reliability, and efficiency in their point of sale systems. Harness the power of Markt POS' cloud-powered platform to optimize your store's operations and stay ahead of the competition.
Check out our use cases and testimonials here.


6. Brilliant POS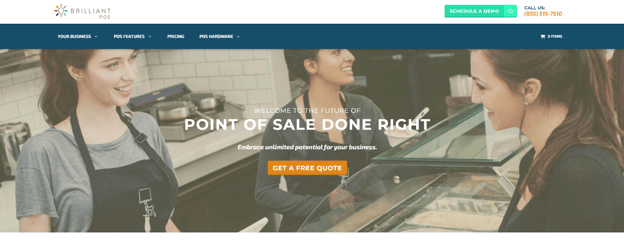 Brilliant POS is a great option for businesses with more straightforward needs, seeking fewer integrations and a more budget-friendly option. This user-friendly point of sale system offers essential features that help you streamline your retail operations without breaking the bank.
Some of Brilliant POS' top features include accurate weight measuring and curbside customer management.
At an affordable price of $29.50/month, Brilliant POS offers a practical and cost-effective solution for businesses with simpler retail needs. With essential features and a user-friendly interface, this POS system enables you to manage your retail operations efficiently while staying within your budget.
"Brilliant POS is absolutely hands down the best company to deal with on POS units. I am a believer in this company. With so many options out there, this is the company to deal with!." - Brilliant POS User on Trustpilot


Choosing the Perfect Meat Market POS System
Choosing the right POS system is crucial for the success of any meat market. A valuable POS system should have features like scale compatibility, inventory management, and employee management to help meat markets streamline their operations and serve customers efficiently.
The POS systems above are the best in the industry, with advanced features and competitive pricing to help meat markets thrive. Still, the best way to determine which system is right for you is to schedule a demo and see the features in action.
While we might be biased, our experts are committed to helping you uncover the specific needs of your meat market. Schedule a demo today to see how Markt POS might fill those needs.